Bouchard d'Avesnes (ca 1170-1244)
In earlier days Burghard/ Bouchard/ Bosschaert was used as Christianname of forename.
There is no link between our genealogy and this historical person. The story is stricly informative and irrelevant for our research.

Jacob d'Avesnes is the son of Nicolas and Ameline the Guise. Jacob was Lord of Avesnes, Condé, Leuze, Landrecies. He was feudatory of count Filips of the Elzas for his castles in Guise and Lesquielles at the Vermandois. He insurrected repeatedly against Filips of the Elzas but they eventually reconciled. He joined the third crusade, and he took an important share in the victory on Saladin. He distinguished himself by his heroic action in the battle at Arsoef, where he was killed on 7 September 1191. Jacob had three sons: Walter, Bouchart and Jacob. At the age of approximately forty years, Bouchart d'Avesnes married in July 1212 with Margaretha of Constantinopel, second daughter of count Boudewijn IX of Flanders and Henegouwen. She was than ten years old.

At the battle at Bouvines in 1214, he had been caught together with Ferrand of Portugal. Then arose difficulties concerning its marriage between him and Margaretha's sister, the governing countess Johanna of Constantinopel.
On charge of countess Johanna, Pope Innocentius III stated at the fourth council of Lateranen in 1215 that the marriage of Bouchard and Margaretha was illegal. The reason was that, during his youth, Bouchart should have been confessed as a subdeaken and cantor of the church of Laon. He should have taken oath of the eternal celibacy. The pope had refused his request to dismiss this oath.
Margaretha loved her thirty years older man, but her sister Johanna was afraid of her sisters heritage.
Bouchard and Margaretha had two sons: Jan (1218-1257) and Boudewijn (1219-1289).

Meanwhile the pope had banished Bouchart, because of his offence of the ecclesiastical right. In 1219 Johanna had caught Bouchard, and had put him for two years in jail in Ghent. Afterwards the divorce of Bouchart and Margaretha became effectively. Margaretha was expelled of the curse. She reconciled with the church and remarried in 1223 with Willem van Dampierre. In 1235 the two sons from her marriage with Bouchart became of age. For the occasion an agreement concerning the partitioning of the goods between these children and the children from Margaretha's second marriage was closed. This agreement was however broken in 1244 because of the childless death of Johanna: the descendants of Margaretha were revendicated as the heir of the throne. This reason caused an conflict between the Avesnes and the Dampierres for many years. Finally in 1256 Lodewijk IX (the Saint) condemned by an arbitration jurisdiction named "Dit de Peronne": He assigned Henegouwen to the Avesnes and Flanders to the Dampierres.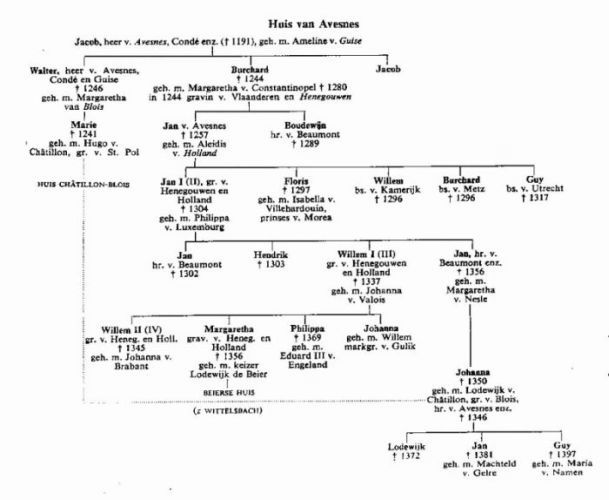 ---