At the occasion of the publication of the genealogical research 'Zoons & Dochters' (Sons & Daughters), subtitled 'Genealogy Bosschaert(s), Bosschaart, Bosschart(s)', Tom Bosschaert has organized an unique family reunion on 4 September 1994 in castle Groeninghe in Aartselaar. More than 160 interested family members from Belgium, the Netherlands, England and even Mexico were invited!
A unique chance for catching up with a snack or a drink, meeting far relatives, checking your lineage. Via genealogical links some 'unknown' people became far relatives. An unforgettable day.

Also the press was present: an article appeared in the newspapers 'Gazet van Antwerpen' (GVA) and 'Het Volk'.

Once again:
Thanks Tom, because without your help this happening wasn't possible !


---

---
---
---
---
---
Families Bosschaerts from Oelegem and neighbourhood
Above from left to right:Kris Joly, Peter Scheldeman, Leon Busschots, Marleen Bosschaerts, Louis Bosschaerts, Ronny Willemen, Alfons Bosschaerts, Marc Bosschaerts, Carolus Bosschaerts en Maria Suetens, Ivonne Wouters, Kris Lemmens, Lutgarde Bosschaerts, Guy Lemmens, Emiel Lemmens, Robert Van Put, Leo Lemmens, Guido Janssens.
Below from left to right: Rosalia Lemmens, Greta Bosschaerts, Els Bosschaerts, Stephania Bosschaerts, Ingrid Bierinckx, Karine Bosschaerts, Bertha Van Houtven, Maria Bosschaerts, Veerle Verelst, Lieve Bosschaerts, Frans Bosschaerts, Wim Van Loocke met zoon Yannick.

---
---
---
---
---
---
Families Bosschaert from Beveren, Doel and neighbourhood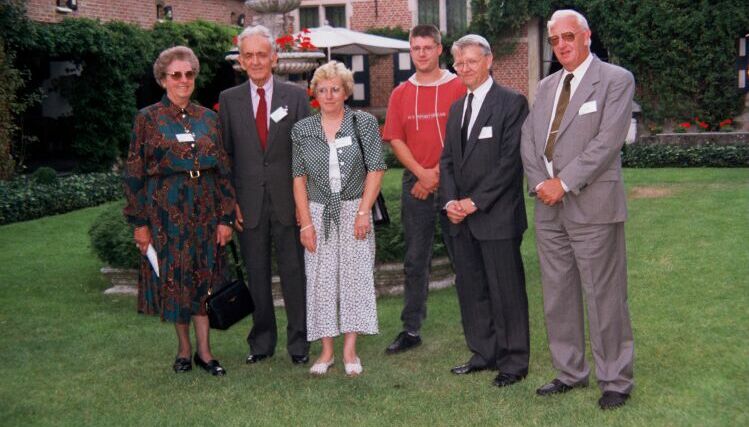 ---
---
Photography: Cor Blancke & Nadia Roosen © 1994